Healthcare Analytics & Reporting Services
Aspen Consulting Service specializes in transforming large amounts of healthcare data into analytic and economic insight.  With over 25 years of industry experience, Aspen's expertise is in making healthcare data relevant & actionable through customized solutions.
A primary capability area for Aspen is in leveraging the Centers for Medicare and Medicaid Services (CMS) Limited Data Sets to conduct extensive research & generate business insights.  CMS offers quarterly and annual claims datasets across multiple places of service (outpatient, inpatient, office, DME, etc.); however, the process of obtaining this data can be tedious.  Furthermore, once businesses obtain these datasets, having the expertise to ingest, analyze, and summarize this data can be challenging.
Preliminary Discussion
Initially, Aspen consultants will work with the client on understanding the needs of their business to help form the Medicare proposal.  Aspen will make recommendations as to which CMS datasets will be required, as well as the frequency of updates required (quarterly or annual updates).  Furthermore, during this conversation, Aspen will make hardware recommendations to ensure data can be easily processed once received.
Data Ingest
Once approved, Aspen will then guide the client through the dataset ETL process and apply testing & QA standards to ensure data is ready for analysis.
Data Analysis
Depending on the client's needs, Aspen consultants will conduct extensive research on the topic of interest, which may include health economic modeling on a specific disease, prevalence rates for a target conditions, product impact on Medicare costs, hospital and provider usage reporting, and competitive insight across the US.
Medicare Application
Aspen will then draft an application for obtaining these Medicare Limited Data Sets, which includes a white paper research proposal designed to benefit the Medicare system (which is a requirement to obtain this data), as well as designate users and custodians of the data during the engagement.

Medicare NPI & 855 Filings
We regularly assist clients with preparing and advising on Medicare provider enrollment forms for Part A and Part B providers and DMEPOS suppliers, as well as enrollment and reassignment for individual practitioners.  Our practice includes working with new providers on completing and tracking enrollment applications in state Medicaid programs and assisting existing providers on change of information or change of ownership filings.  In addition, we can help providers navigate applying for NPIs, revalidations, and maintaining accurate enrollment records. 
Summary & Recommendations
Aspen consultants will provide standard reporting, economic models, and recommendations based on level of engagement & client needs.
DMEPOS Supplier Accreditation Process
All DMEPOS (Durable Medical Equipment, Prosthetics, Orthotics, and Supplies) suppliers must obtain accreditation prior to being awarded a contract under the Medicare DMEPOS Competitive Bidding Program. 
Aspen Consulting Service specializes in obtaining this mandatory accreditation by working closely with Accreditation Organizations (AOs) and the DMEPOS supplier to maintain a successful, streamlined process.
During the engagement, Aspen Consulting Service works with the DMEPOS supplier in selecting an appropriate Accreditation Organization, writing the 48 policies and procedures required for approval from the Accreditation Organization, which span all areas of the supplier's organization (Human Resources, Finance, Billing, Retail Services, etc.), and assist in preparing for the unannounced onsite survey.   Once approved through accreditation, Aspen Consulting Service will continue to work with DMEPOS suppliers in completing the Medicare enrollment process and becoming a Medicare approved vendor.  
1
Select an accreditation organization approved by CMS
*The organization will verify whether or not applicants meet the standards, including compliance with federal and state licensure requerimets.
2
Submit application and required documents to the organization
*The organization will review the application and documentation, which can take about 4 to 6 months.
3
Pass the survey conducted at applicant's place of operation
*The organization will visit the applicant's place of operation unannounced to conduct a survey and report the accreditation to the National Supplier Clearinghouse.
4
Complete Medicare enrollment forms with the CMS
*A form from the CMS website will need to be filled out and submitted.
5
Purchase a DMEPOS surety bond
*Suppliers must obtain a $50,000 bond for each location at which they operate, and the bonds must be submitted to the Supplier Clearinghouse.
Deborah Dean
Chief Analytics and Technology Officer, BioIQ
Deborah Dean is Chief Analytics and Technology Officer at BioIQ. Dean works collaboratively with BioIQ teams to develop and refine the company's technology roadmap, integrating with corporate and business development, as well as overall business strategy.
Additionally, she leads the development and execution of technological innovations and strategies that help the organization reduce gaps in care while providing the insights customers need to maximize the value of their health engagement programs.
With more than 25 years industry experience, Dean is a highly respected technology executive with extensive C-Level expertise.  Her experience includes operations, technology, data integration, analytics, applications development, informatics and technical infrastructure.
Most recently, Dean served as executive vice president of MiMedx, where she had broad responsibilities, including technology, informatics, clinical trial management, quality and regulatory.  Prior to joining MiMedx, she was president and chief operating officer of HolaDoctor, a leading Hispanic digital site.  Additional experience includes Matria Healthcare, where she served as executive vice president and chief technology officer and was awarded CIO of the year by the Georgia CIO Leadership Association (GCLA).  She has also served as senior vice president of research for Quovadx, Inc. (now Lawson software) and earlier in her career, held a range of positions in data warehousing and informatics for Medstat.
Dean earned a bachelor's degree in health services administration from Arkansas State University. She lives in Atlanta and is on the board of Special Olympics Georgia.
Jim Dozier
Chief Information Officer
Jim has over 25 years of experience overseeing complex information technology needs for several healthcare companies. His experience has been in creating value through technology by ensuring systems and infrastructure meet the growing needs of the business. Jim holds a degree in Applied Mathematics.
Brandon Hubbs
Chief Data Scientist
Brandon is an accomplished professional with over 20 years of analytics experience in various industries including healthcare, automotive, telecommunications, retail, quick service retail, and financial services.  Throughout his career, Brandon has played a central role in leading analytics efforts for his team. 
Brandon started his career as a statistician at Cigna Medicare and was tasked with utilizing advanced statistical techniques to identify fraud and abuse in billing practices amongst healthcare providers.  Building on his career in healthcare, Brandon also worked for disease management organizations to identify future high-risk members with chronic conditions using predictive modeling, decision trees, and neural networks.  He also led efforts in conducting claims-based outcomes reporting for over 350 clients.  Additional experience in healthcare has consisted of leading statistical efforts for multiple FDA-approved clinical trials & implementing health economic models for members with chronic conditions.
Beyond healthcare, Brandon also worked as VP, Analytics for multiple marketing agencies where he has led efforts for a variety of analytical solutions that include automated predictive modeling, market segmentation, campaign optimization, and lifetime value.  During this time, Brandon provided solutions for clients within automotive, telecommunications, retail, quick service retail, and financial service industries.
Brandon holds advanced degrees in Statistics and Psychology and works from his home office in Atlanta.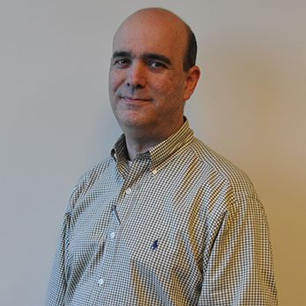 Luis Simonet
IT Officer
Luis has over 20 years of experience in IT consulting and cybersecurity. He is a proven IT professional and leader of IT teams and cybersecurity programs, specializing in design, architecture, compliance, privacy and vulnerability assessments. An expert on the application of FedRAMP, HIPAA, GLBA, SOX, GDPR, and PCI-DSS. Over the last 20+ years Luis has helped hundreds of companies across many industries like financial institutions /healthcare/legal/federal create and implement comprehensive, valuable and manageable Information Technology and Security Programs.
Luis has a passion for sharing his excitement and vast cybersecurity and IT knowledge with current and future clients. He has over 10 years of experience with cybersecurity incident response, forensics and penetration testing.